Sat Apr 25, 2015 6:27 pm
We are planning a trip for February next year touring from Windhoek and right up through Namibia to the Kunene, and are hiring a small 4x4 campervan. Are we allowed to take this into sites designed as "camping?" Advice would be appreciated to enable us to make plans. Thanks
Sat Apr 25, 2015 6:58 pm
Expat
"Camping" is always good for a campervan in Namibia.
If there is a problem, it's the road rather than the camp. A four-wheel drive is often the only way get to certain places in Namibia, so a small 4x4 should be the best choice.
Sun Apr 26, 2015 9:05 am
Hello, Expat! In SA campervans count as "camping"....shouldn't be any different there!
Sun Apr 26, 2015 11:03 am
When planning, please check properly the roads, some are strictly 4x4 and would require a proper 4x4 equipment, such as tools and (another) spare wheel.

If you go to the Kunene River lodge for example (there is camping, too), the road from Epupa is 4x4 strictly and if you are not experienced and well equipped, you should be with another vehicle, but the road from Ruacana is not 4x4 at all; coming from Opuwo is just an ordinary gravel road.

From my experience, the problem with 4x4 driving in Namibia is whether the rental car guys can reliably provide what you need (tools, wheels, etc) and fuel can be a problem, too, as the petrol stations sometimes run out of fuel. So check the vehicle in this regard (and try to calculate how far you will get and check if you can get extra jerrycans).
If you stick to the better gravel roads, you won't need all the extras.
Sun Apr 26, 2015 4:54 pm
Good memories of that side of the country, was lovely countryside. Would love to go back some day.
This pic is so old , Lion and Castle were the mainstay beers. A braai along the Kunene river after visiting the power station.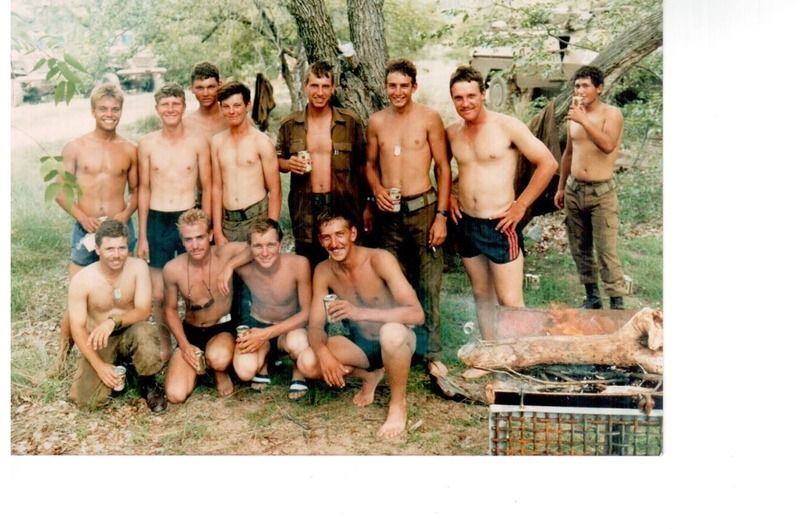 Pic courtesy of our major.
Sun Apr 26, 2015 6:07 pm
Interesting, Robert!
what vehicle is that one top right?
Lion! Miss it!
Did the Kunene-Popa Falls Etosha thing in Dec 1999...no 4x4 required at all in Namibia?
Sun Apr 26, 2015 6:17 pm
I'm wondering which one is RobertT
Sun Apr 26, 2015 6:28 pm
That vehicle is a ratel 20. Went everywhere those vehicles.
This was early 1987.

Believe this era was when my first enjoyment of mopani bush started. The dead bushes played havoc with our tyres.
Sun Apr 26, 2015 6:30 pm
Can see the second back wheel now!
I was in Matric!