385.2
Dune Currant, Dune Currant-rhus
Searsia laevigata, Rhus laevigata
(Duinetaaibos, Koerentebos)
Order: Sapindales. Family: Anacardiaceae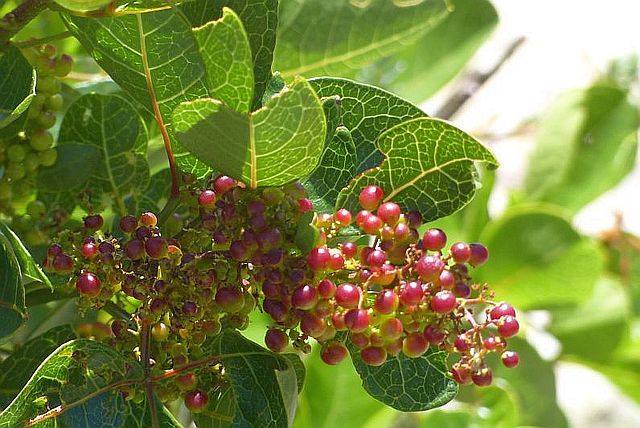 © arks
© arks
Cape peninsula, along the Kommetjie seaside boardwalk
Description
Much-branched, multi-stemmed, deciduous to evergreen shrub or small, bushy, spreading tree, up to 4 m tall. Branchlets have brown spots (lenticels). Bark is smooth, grey-brown. Leaflets are widely egg-shaped to elliptic, but the colour and texture are highly variable; they are sharp-tipped with the base narrowly tapering; parallel veins loop at the margins and net-veining is translucent and easy to see; leaf-stems are long, to 30 mm, sometimes red, the colour merging into lower veins; margins are smooth and rolled under. Flowers are small, greenish-yellow, from Octpber to April (sprays: 65 mm). Fruit 4 – 5 mm diameter, hairless, round, dull yellow turning reddish to brown, from January to July.
Distribution
South African endemic to the Eastern Cape, Western Cape and Northern Cape, from north of Springbok round to south-west of East London.
Habitat
It occurs in karroid areas, fynbos and coastal shrub.
Links:
Field Guide to Trees of Southern Africa. Braam Van Wyk, Piet Van Wyk